Chiropractic is the world's
largest complementary and
alternative healthcare solution
Chiropractic is the world's largest complementary and alternative healthcare solution proven effective in treating conditions related to the musculoskeletal system, especially the spine, via manipulation without the use of drugs or surgeries. The focus is on treating the root causes of potential ailments instead of just the symptoms, similar to the 'tip of the iceberg' metaphor.
The chiropractic discipline specialises in the important structures of the body, with a strong focus on the spine. The spinal cord – the main pathway of the nervous system – is located within the canal space of the spine and functions as the nerve superhighway, transmitting signals between the brain and the rest of the body. All bodily functions and movements are essentially linked by this system.
As such, a subluxation (partial dislocation in chiropractic terms) or spinal misalignment can affect the spinal nerve as it exits the spinal cord, leading to a handful of common physical wellbeing issues such as headaches, pain on necks or lower backs, extreme numbness or tingling sensations, slipped discs (i.e. spinal disc herniation), to name a few. A chiropractic adjustment helps realign the spine, releases pressure on pinched nerves and other irritations and in turn provides relief.

We provide each and every patient with the highest quality of service, deliver to them the best outcomes, and are constantly finessing what we do so as to furnish exceptional treatments to our patients along with quantifiable results.

Our professional, highly-qualified and deeply-experienced doctors take pride in offering ethical complementary healthcare services embedded with honesty, integrity and trustworthiness.

We always place the patient in the foremost; nurturing their wellbeing and being sensitive to their physical, emotional and spiritual requirements whilst treating them with empathy and respect. Every treatment is bespoke and carefully-tailored to target an individual's conditions because no two people are the same, thereby providing our patients with the finest care available.
To provide professional, highly-effective and top-notch healthcare services to the community.
To constantly innovate and adopt state-of-the-art chiropractic methodologies and physiotherapy techniques to ensure that the community receives the most comprehensive, holistic and well-rounded treatments that concurrently conform to international ethical standards.
To keep our services both accessible and affordable so that every individual in the community can benefit from our treatments and improve their state of health and wellbeing.
At Neo Chiropractic, our doctors undergo stringent qualification tests that include at least 5 years of university studies in an accredited Chiropractic program and understudying from well-established and highly-regarded mentors. Upon completion of their studies are they qualified to treat our patients and recognised as registered Health Professional Chiropractors.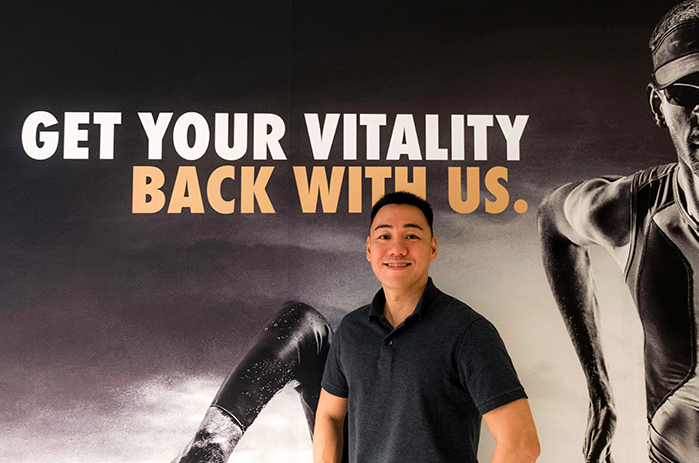 DR. NEO ZHEWEI
Chiropractor | Wellness Champion | Sports Enthusiast | Avid Cyclist
Dr. Neo graduated from the Murdoch University Chiropractic programme in Perth, Western Australia. He is skilled in a variety of corrective Chiropractic techniques including the Diversified Technique and the Sacro-Occipital Technique (SOT). He is also certified in Dry Needling Therapy, the Graston Technique as well as Kinesiotaping.
He is an avid cyclist and goes on regular road biking trips with his cycling group. Century rides? No problem – he has completed many of these over-160km rides in Kuantan, Malacca and Rembau to name a few. He currently has a newfound passion for triathlons and is working towards the completion of his first full-fledged Ironman Triathlon Race. As an athlete himself, he is able to empathise with and relate to his patients' sports injuries and is confident in helping them regain their optimal performance levels through proper sports conditioning, rehabilitation and therapy.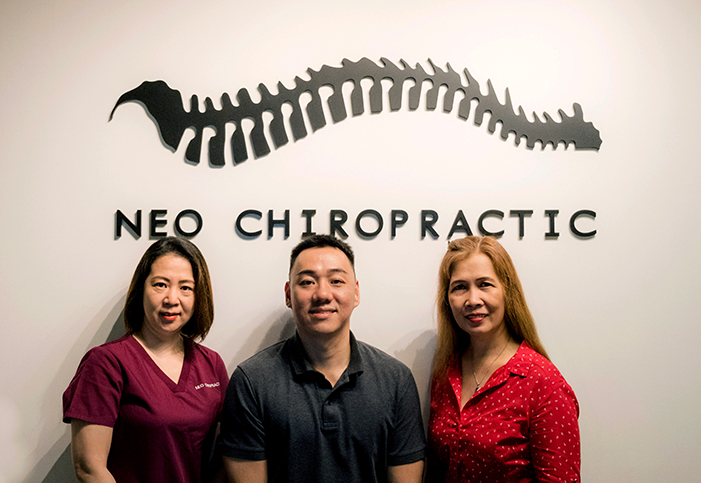 His chiropractic journey began when he was 20 and diagnosed with disc protrusion after experiencing severe lower back pain that just would not go away despite various treatments during his officer cadet school training. It was then when Dr. Neo decided to visit a chiropractor, resulting in a life-changing experience – his condition improved tremendously and shortly after, the pain dissipated. Thereafter, he was inspired to study chiropractic & become an accredited chiropractor himself – the birth of Neo Chiropractic came about after 9 years of extensive practice in Perth & Singapore with an unwavering philosophy to help people to always be in the prime of their lives.